An earthquake process recorded by the College`s submarine cable real-time observation system
Editor:ZHU Jingsheng
Time:2021-01-10
Views:

54
According to the official measurement of China Seismographic Network (CSN), a magnitude 3.8 earthquake occurred in the waters of Penglai District (37.99 degrees north latitude and 120.41 degrees east longitude) in Yantai City, China`s east Shandong Province at 16:46 on January 6. The Shandong Ocean Ranch Observation Network, established on the Zhoushan campus of Zhejiang University, successfully recorded the entire process of the earthquake and obtained timely first-hand data on the changes in marine element data in the sea near the source during the earthquake.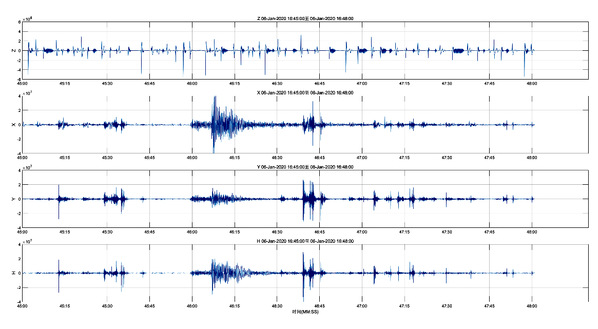 The submarine cabled online observation system that developed by the team of Professor Li Peiliang of Zhejiang University is a new type of offshore submarine observation solution. The system integrates various observation instruments to realize online continuous observation of various ocean elements. During the implementation of the "Operation and Maintenance Project of Shandong Province Marine Ecological Observation Network" in 2019, the team upgraded and added seismic observation instruments of the seabed cabled online observation system located in Shandong Anyuan Marine Ranching, Which realized real-time online monitoring of the area, including submarine earthquakes.
After the seabed cable online observation system is equipped with a seismograph, with the cooperation of the original system's high-precision pressure sensor, it can realize the monitoring of tsunamis, etc., which is a new attempt for us to expand its application and service range. Li Peiliang said. The seismic data will provide data support for marine pastures, including earthquakes and other ecological disaster response strategies and guarantee plans, and provide a basis for further large-scale online monitoring of the marine environment.
It is understood that the submarine cabled online observation system has been successfully applied to the fields of marine ranching ecological environment monitoring, coral reef monitoring, water quality monitoring in major environmental risk areas, marine bottom boundary layer observation, and marine environment operational observation. A large number of applications over the years have shown that the system has the advantages of high stability, high scalability, etc., and it has gradually developed into a general platform for online monitoring of the marine environment, becoming a weapon for marine environmental monitoring and pre-warning. In September 2020, the underwater online monitoring workstation of ocean pasture built by Professor Li Peiliang's team was selected as the National Workstation of the Ministry of Agriculture and Rural Affairs.
In the next step, we will continue to explore and improve the seabed cabled online observation system, which can pay attention to various indicators of the marine environment more comprehensively and accurately,further strengthen the monitoring of coastal marine ranches,improve the management of marine ranches, protect the ecology, and revitalize fisheries. Li Peiliang said.